Pair of osprey chicks found at Kielder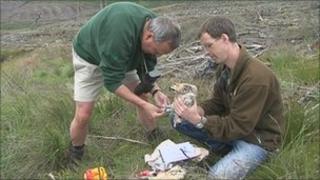 A pair of osprey chicks have been discovered by rangers in Northumberland.
The Forestry Commission team had only expected to find one chick in the tree 15m (49ft) above Kielder Water and Forest Park.
It is the only place in England for more than 170 years to have two breeding families of the birds, the Forestry Commission said.
The chicks were lowered to the ground in a bag before being tagged.
The rangers climbed the tree using ropes and harnesses before the gentle operation of placing them into a rucksack and lowering them to the ground.
The metal and plastic identification tags the birds have been fitted with will allow the rangers to keep track of them once they leave the nest.
'Really exciting'
Forestry Commission ornithologist Martin Davison said the population of ospreys was slowly growing.
He said: "We have two pairs here in Northumberland and there is a very famous pair in the Lake District.
"It is so good to be able to come out here and see the birds because we built the nest then kept an eye on it, but always from a distance so we did not disturb it.
"So to come to the nest and actually get our hands on the chicks is really exciting, because they are big chicks and they are very docile and very beautiful, with big yellow eyes.
"They are absolutely gorgeous."