Olympic hopeful from County Durham wins trampolining medals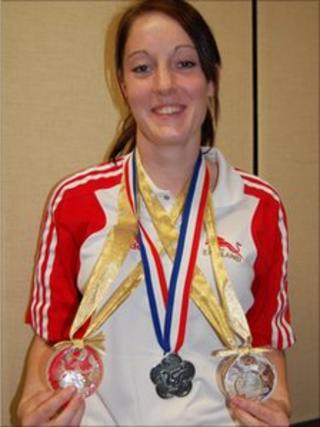 An Olympic hopeful from County Durham has returned from Japan and China with three silver medals from a trampolining championships.
Kat Driscoll, 25, finished second in three competitions in the Trampoline World Cup.
The medals were awarded for an individual and synchronised competition in Japan and the synchronised competition in China.
Miss Driscoll is hoping to qualify for the British Olympic team at London 2012.
Originally from Kent, she spent her Easter and summer breaks in County Durham, training with the junior national team with her coach Bill Leach.
She moved up to the West Rainton at the age of 18 and is a member of the Apollo Trampoline Club in Washington and still trains with Mr Leach.
After leaving her full-time job, she is now concentrating on trying to qualify for the 2012 Olympics.
'Strong enough'
She said: "I trampoline six days a week for a minimum of three hours a day and on a Saturday I'm doing six hours.
"I have to do three sessions at Gateshead Stadium for strength and conditioning and then I need to keep up my normal conditioning through the day so I'm going out for runs and things."
Miss Driscoll has to keep fit but that does not involve constantly jumping up and down on a trampoline bed as many times as you might think.
She said she also does other training to give improve her strength.
Trampoliners have to have exceptional spatial awareness when performing. While spinning 15 feet (4.5 metres) in the air, they have to know exactly where the floor and the trampoline is at all times.
Miss Driscoll said: "The higher you are, the higher your score is. So we need to do a lot of work to make sure our legs are strong enough to make us jump high.
"We need to make sure that our stomachs and backs are strong enough because we're doing a lot of twisting, rotating and somersaults."
The choice of who represents Britain will be made in June 2012 and the Olympic trampoline events will take place at the O2 Arena in London.