Second family of ospreys lay egg in Northumberland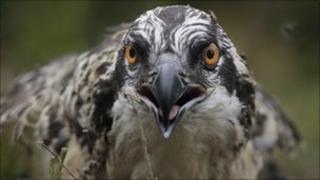 A second family of ospreys have laid an egg at Kielder in Northumberland.
The first family have produced eggs for the last three years, but have been the only ospreys to do so in England.
The RSPB said the development was a "major milestone" and it is hoped the second pair will help the population thrive.
The new birds have nested on an artificial platform erected by the Forestry Commission on top of a tall spruce tree.
Blanaid O'Connell, from the RSPB, said: "The news that another pair of ospreys is breeding in Kielder marks a major milestone.
"It strengthens the chances of this once persecuted bird recolonising other parts of England where it has been absent for hundreds of years."
The first pair of ospreys laid three eggs earlier this year, but only one survived due to windy weather conditions in the crucial hatching period.
This meant that the male could not hunt for fish to feed the first of his offspring.
The third chick, born a few days later when the gales subsided, was more fortunate and has survived.
The surviving chick is their seventh youngster in three years.