Two Chilean miners will visit 127th Durham Miners' Gala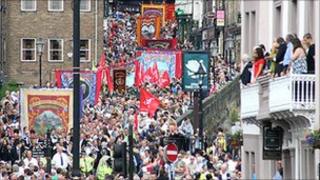 Two of the 33 Chilean miners who were rescued in San Jose will be guests in Durham this weekend.
Carlos Barrios Contrera and Carlos Bugueno Alfara will visit the 127th Durham Miners' Gala which takes place on Saturday.
They and their workmates, were trapped 700m (2,300ft) underground at the Copiapo mine for two months in 2010.
Organisers of the Durham Miners' Gala hope one of them will address the crowd at the old Racecourse.
Labour leader Ed Miliband was also due to be the first Labour leader to speak at the gala since Neil Kinnock in 1989 but has since pulled out.
'Spirit and comradeship'
The annual miners' gala takes place in Durham's city centre with a parade of banners and performances from local brass bands walking across Elvet Bridge.
It attracts thousands of people from all over the region to remember and celebrate the mining industry.
The route ends at Durham University Cricket Club with a fairground, a number of speakers and entertainment.
Also known as the Durham Big Meeting the event will celebrate its 140th anniversary.
The very first event took place in Durham in 1871, but some years the gala was cancelled due to strikes, World War I and World War II.
Dave Hopper, general secretary of the Durham Miners' Association, said: "We would hope at least one of them [Chilean miners] speaks from the platform, obviously we'll have interpreters there.
"These men came through an incredible episode in their lives very successfully.
"The spirit and the comradeship of them miners underground was typical of miners throughout the world.
"These men are really something and I'm very pleased that we've got them."
See BBC pictures from the previous galas in 2010, 2009, 2008, 2007 and 2006.