Sunderland and Durham get their first foodbanks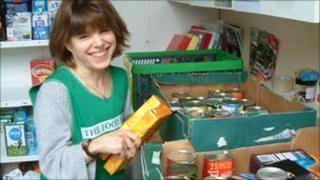 What do you do if you are so broke you cannot afford to feed your children?
More and more people are turning to charity foodbanks for help and now two are opening in the north-east of England.
One will be run by Elim Pentecostal Church in Sunderland and a second by a church in Durham.
The foodbanks are being set up with the support of the Trussell Trust and last year more than 60,000 people received emergency food handouts.
Jenny has seven children and ran into financial difficulties when her cleaning jobs started drying up.
She said: "When your two-year-old says, 'Mummy, I'm hungry and my tummy hurts' you start worrying about where the next meal is going to come from.
"Of everybody in the family, I'm probably the person who goes without the most. I've been to bed crying because I've been so hungry."
Most are not homeless but are low income families who have hit a crisis point.
They are people who have been made redundant or are experiencing delays in their benefits.
'Vulnerable and struggling'
The executive chairman of the Trussell Trust, Chris Mould, said many of those they help have a job but cannot make ends meet.
He said: "They're vulnerable, they're struggling to pay the rent, their family's broken down and their earnings simply don't go far enough.
"Food prices are going up, petrol prices are going up, people are desperate."
Fi, a single mother, turned to her local foodbank after a delay in getting her student finance after she decided to go back to college.
She said: "It was such a struggle. I've got three children, two of them boys, and they're growing fast and need to eat a lot."
She said being referred to the foodbank transformed their lives: "When I got the foodbox, it was supposed to be for three days but it lasted us two months almost. It was amazing. It felt like Christmas for the children."
So far more than 100 foodbanks have opened across the UK, and the Trussell Trust estimate that the numbers fed by them could swell to 500,000 by 2015.
Every person in receipt of a food parcel is referred by a frontline care professional such as a doctor, a health visitor or social worker.
Chris Mould said they are dependent on the generosity of the public for food donations.
He said: "We've got around 900 schools and churches involved and you can often see our volunteers outside supermarkets.
"They'll ask shoppers if they might be willing to buy just one extra item to donate to those in need."
The Trussell Trust says it is delighted to get new branches of foodbanks in the north-east, a region which, until now, has been without them.
But they would like more church groups to come forward to help.