Blue plaque for Edwardian Wimbledon winner Muriel Robb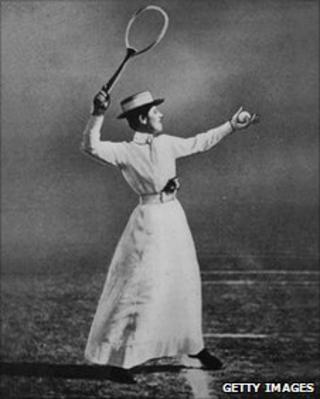 A blue plaque is being put up at Jesmond Lawn Tennis Club in Newcastle to honour the region's only Wimbledon winner.
Muriel Robb, a member of the club in the Edwardian era, became the Ladies' Wimbledon Champion in 1902 when she was 23 years old.
The match, played over two days, is still the longest in Wimbledon Ladies history at 53 games.
She is also credited with being the first woman to serve overhand.
The chairman of the Jesmond club Peter Ratcliffe described her as a "remarkable girl" who died from cancer only five years after her win.
Miss Robb was buried in Jesmond Old Cemetery and it was reported two lorries were needed to transport the wreaths and flowers to her funeral.
Although she played little competitive tennis after 1902, her wins to that point were impressive.
She had taken the Wimbledon mixed doubles title, three ladies' doubles championships and the Irish, Welsh and Scottish single titles, something not done before or since.
Mr Ratcliffe said: "I gather she was quite a nifty mover round the court which, prior to that, most of them had been a bit sedate and served underhand."
She managed this despite the standard tennis kit of floor-length dress, fitted blouse, corset, tie, belt and straw hat.
'Never be beaten'
With no modern tie-breaks to force a decision, Miss Robb's Wimbledon singles final lasted 53 games.
Play was abandoned because of a thunderstorm and the match was started from the beginning again the following day.
Mr Ratcliffe, who said he was fascinated by the story, said: "I've got a suspicion there's a commercial reason for the fact that they started the match again.
"You don't do that in tennis, you should have started it at set-all. So, as a result, 53 games and it'll never be beaten."
Ian Ayris, from the Historic Environment Department at Newcastle City Council, said anyone remembered by blue plaques needed to have made a significant contribution to the city, but did not need to be well known.
He said: "When the plaque scheme first began, it celebrated, perhaps, people who everybody's more familiar with.
"But, as we delved deeper into the history of the city, it does throw up an amazing, wide collection of people."
Mr Ratcliffe said: "The blue plaque is quite a coveted thing to have and we [will] wear it with pride on our gate."