Cold War Avro Vulcan bomber comes to Sunderland airshow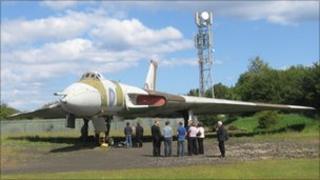 An Avro Vulcan bomber used during the Cold War is making a return to the Sunderland International Airshow.
The Vulcan, which was originally designed to carry nuclear weapons, will return to the skies as part of the largest free two-day event in Europe.
Taking place on Saturday, 30 and Sunday, 31 July 2011 the airshow takes over the coastline with more than eight hours of displays at Seaburn and Roker.
The Vulcan last appeared at the airshow two years ago.
The aircraft would have originally been manned by five crew and has a wingspan of 99ft (30m) and a top speed of 610mph.
Now in its 23rd year, this year's event will include wingwalkers, an RAF Falcons Parachute Display Team and the Royal Navy Black Cats helicopter display team from the British armed forces entertaining the crowds.
Supersonic jets
Sunderland City Councillor John Kelly said: "I'm very pleased to say that there is, once again, something for everyone. There are several favourites returning to see us and also new additions to the flying programme.
"This is a flying programme that will see more than eight hours of displays that includes classic fighters, hi-tech helicopters, a gigantic bomber, aerobatic trainers and supersonic jets, all flying over Sunderland's seafront.
"I'm personally delighted to announce the return of that giant of the skies - the Vulcan Cold war bomber. There'll also be plenty of land-based attractions along the seafront from exhibitors and ground displays."
Civilian pilots are also flying a range of classic aircraft including a Spitfire and Hurricane on the weekend.
A launch party of a sunset flying display, fireworks and live music will take place on Friday, 29 July in Cliffe Park, Roker.