Archaeologists to search River Coquet for lost mill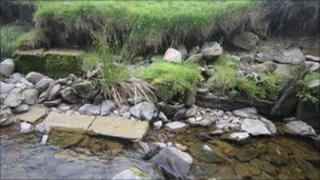 A team of amateur archaeologists has won lottery cash to fund an underwater excavation in Northumberland.
The £9,500 from the Heritage Lottery Fund will allow Coquetdale Community Archaeology group to search the River Coquet for a 13th Century cloth mill.
Evidence of the submerged remains are already visible in a stretch of the river near Barrowburn.
Work on the project, which has also received backing from English Heritage, is due to get under way next month.
Experts believe the mediaeval fulling mill was operated by local monks.
Timber samples from the site have been tested by experts at the Museum of London who have confirmed they are from the 13th Century.
'Challenging excavation'
Chris Butterworth who chairs the archaeology group, said: "When we start will depend on river levels as we will have to work in the River Coquet itself.
"But the whole group is very enthusiastic about the project and our volunteers will be coming from across Northumberland to take part."
Local schools and universities will also be involved in project work and we intend to set up a website with blogs to report regularly on progress."
The volunteers will be led by archaeologist Richard Carlton, director of the Tyneside-based Archaeological Practice.
He said: "It will be a challenging excavation for the group, depending on the weather and river levels.
"But by the end we hope to know far more about how the monks operated the mill at Barrowburn and understanding its role in the wider landscape."