Durham's Lumiere light festival returns to city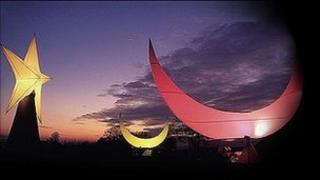 Durham's Lumiere festival of light is returning to the city this winter.
Debuting in 2009, everything from buildings and bridges to shop windows and major attractions were turned into canvases of light by artists.
The last festival attracted more than 75,000 people to the city over the three nights of innovative light installations.
The programme for this year's festival, taking place from Thursday 17 to Sunday 20 November, has not yet been revealed.
The first festival saw several installations including images projected on to Durham Cathedral and a trail of sound and light at the Botanic Gardens.
This year local artists as well as international ones will be producing work, which will be spread all over the city.
Boosting economy
Durham County Council leader Simon Henig said: "I think everybody who came here last time remembers what an awesome experience it was two years ago.
"Last time we had the spectacular sound and light on the wall of Durham Cathedral and it really made the hairs on your neck stand up, it was absolutely tremendous.
"One of the good things this time is we've been working with local artists as well as part of the programme, so it really does promise to be something not to miss.
"This time I have to say the programme is being kept tightly under wraps, but it promises to be just as spectacular, if not even more so than last time."
Lumiere 2011 has been commissioned by Durham County Council and is being supported by Arts Council England. BBC Newcastle is the official event partner.
Councillor Simon Henig added: "The great thing about this, is it brings people into Durham. The estimate last time was £1.5million was generated for the local economy and that is nothing to be sneezed at.
"These are big amounts, we're hoping it will be even more this time from people coming in, staying in hotels, visiting cafes, restaurants, local businesses, and hopefully again it will give a good boost when the nights start drawing in at the end of November, so things hopefully will be just as good or better than last time."
The full programme for Lumiere will be revealed in the summer.