North East youths lobby PM over negative stereotypes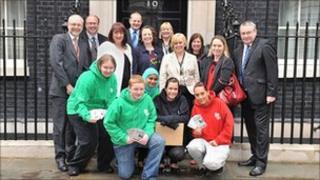 Ten youths from the north east of England have been to Downing Street to lobby the prime minister over children's rights.
The group from Tyne and Wear and nine North East MPs handed over a petition with more than 2,000 signatures.
The Truth about Youth project has been working for 12 months with adults and the media to counter the negative images of young people.
They have been to schools and colleges to get support for their campaign.
Natalie Phillips, from Truth About Youth, said: "Young people throughout the North East feel really strongly about the way they are perceived in society and we wanted to do something about it.
"We are delighted that so many of our region's MP's have turned out to show their support for the campaign and we really hope that this is the beginning of a more tolerant society for young people."
In 2008 the United Nations Committee on the Rights of the Child recommended the UK Government took urgent measures to address the intolerance and inappropriate characterisation of children, especially in the media and wider society.
Mary Glindon MP for North Tyneside, said: "I am pleased to support the young people of our area in presenting their petition. It is only right that the government take notice of the UN recommendations."
The group met with Tim Loughton MP to discuss the government's agenda for future youth policy including the government's Positive for Youth approach outlined at their Youth Summit earlier this year.
Mr Loughton later Tweeted: "Some great ideas about being positive for youth from Truth About Youth group from North East I met earlier today with their Goodies in Hoodies".