The World luxury cruise liner visits Tyneside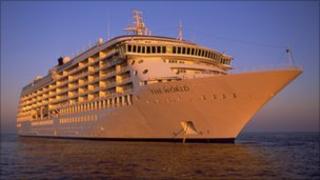 Businesses are hoping cruise liner passengers who own their ship will be sharing their wealth on a visit to the north-east of England.
The World, an exclusive cruise liner run by its residents, arrives at Port of Tyne on on Friday.
They chose to visit Durham, Tyneside and Northumberland for the area's local history, specifically Hadrian's Wall.
Port of Tyne bosses describe the liner's visit as a "fantastic coup".
The liner's residents will also be visiting the Angel of the North and Durham Cathedral and Castle.
The Port of Tyne's Chief Executive Officer, Andrew Moffatt, said: "The fact The World is paying a visit to the Port of Tyne is testament to our region's rich heritage and vibrant city culture.
"The Port of Tyne is competing against destinations such a Monaco, Cape Town, Istanbul and Madagascar in attracting cruise ships like this. It is a fantastic coup."
Apartments on board the ship cost from £500,000 to more than £3m.
There is also a six-bedroom penthouse.
'Distinct dialects'
It is a world beyond the ordinary imagination, with every need and whim catered for, including an art gallery, florist and 12,000 bottles of champagne.
The 165 'residences' do have their own kitchens, however, so more frugal living is possible
Those who need to work are also catered for, with conference facilities and a secretarial service available.
While some of the residents live on board all year, most only visit for three or four months, flying in to destinations that appeal.
A spokesperson for The World said: "The itinerary is designed to show different regions of a country each time the ship visits.
"This gives the residents a new experience, a new culture and distinctly different dialects, city landscapes and countryside to explore."
It is not clear whether existing residents are able to vet newcomers but a spokesperson for the liner said: "New residents would have sailed on board at least once to experience the lifestyle and meet other residents.
"There tends to be a natural fit both in profile with similar interests in travel, sports, culture and the arts, family, community and adventure."
The World is permanently travelling around the world and will visit 53 countries this year.
After leaving Newcastle she will stop in Edinburgh before heading for the Norwegian fjords.