Newcastle mayor starts and takes part in Blaydon Race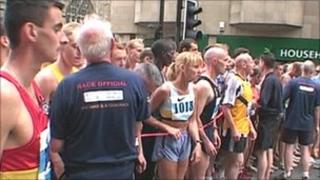 More than 4,000 runners are gearing up for a Tyneside road race.
The Blaydon Race is traditionally held on the 9 June, as in the famous anthem, which is sung before runners set off from Newcastle's Cloth Market.
For the first time the serving Lord Mayor of Newcastle will be both ringing the starting bell and running the race, which is now in its 30th year.
It will lead to temporary road closures and traffic restrictions along the 5.9 mile route from 1854 BST.
Councillor Geoff O'Brien, Lord Mayor of Newcastle, said: "I am delighted to be starting this historic race and I would like to wish everyone well.
"It is a very special night for the city and I am looking forward to taking part and joining my fellow runners on the course."