Giant edible map of North East to be built in Gateshead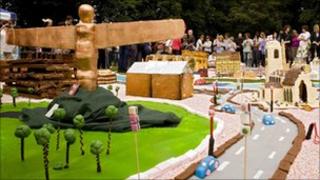 A giant cake map featuring north-east England's most famous landmarks is to be built in Gateshead.
More than 100 teams of bakers from across the country will bring their own baked landmark for the map to National Trust property Gibside on 26 June.
The map will have edible roads, towns, countryside and waterways, featuring well-known buildings such as Durham Cathedral and Bamburgh Castle.
The 33ft x 33ft (10m x 10m) cake will be eaten at a picnic on the day.
Cake 'passion'
The Cakebook event follows a similar event in 2010 which saw Newcastle and Gateshead's iconic skyline recreated in cake.
Everything from a chocolate Gateshead Millennium Bridge to a Victoria sponge St James' Park were featured on the map.
This year the group is working with the National Trust to expand the map and include properties such as Cragside and Souter Lighthouse.
Mick Wilkes, property manager at Gibside, said: "The National Trust are custodians of some of the North East's most important places - landscapes and buildings - from Penshaw Monument to parts of Hadrian's Wall and Cragside House.
"What better way to connect people to the places they love than through cake - another passion of the National Trust."
The event will also feature food stalls, street performers, music and a food adventure playground.
People wishing to take part have to visit the Cakebook website first to see what plots are already taken so landmarks like the Angel of the North and the Tyne Bridge are not duplicated.
Cakebook is part of the EAT! NewcastleGateshead food festival which showcases local food producers, restaurants and culinary talent in the North East through a series of events in June.