River Tyne workers' memories sought for project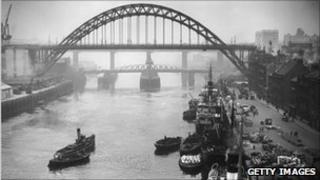 An arts project is appealing for help to capture the memories of men who have worked on the River Tyne since the 1950s.
Men of the Tyne will gather the stories of former workers employed on or near the river and the changes it has seen over the years.
The photography and creative writing project is being developed by local writer Tom Kelly and filmmaker Andy Hagan.
They want to hear from men who worked in either the shipyards or any related industry that was based on the riverside.
Kay Pryer, from arts organisation The Customs House, said: "The aim of the project is to encourage people to reminisce about their days working on the river, so that their stories and memories will be recorded for future generations to learn about the industry that once took pride of place here.
'Future generations'
"We also want to bring together a group of men from the same background who will continue to meet up once the project is completed."
The project will include a series of workshops in primary schools, culminating with a tour of the river lead by Ray Spencer, where the men's stories will be narrated.
Customs House executive director Ray Spencer said: "My father worked on the river for 42 years, as did my grandfathers. I remember the noise and the vibrancy of the river.
"We are duty bound to capture the stories of those who worked on our great river.
"My hope for this project is that it becomes a tool for future generations to learn about the men of the shipyards who made the River Tyne one of the leading shipbuilding and ship repairs locations in the world."