Northumberland ospreys produce eggs for third year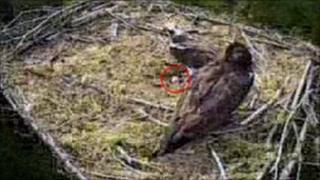 A record-breaking pair of ospreys have produced eggs for a consecutive third year in Northumberland.
The birds returned to the north-east of England after a 10,000 mile (16,000 km) flight from Africa in April.
They have now produced a total of nine eggs, three eggs each year from 2009.
The ospreys live in artificial nesting at the forest in Kielder and both male and female birds have been sitting on the eggs.
Kielder is the second location in England where the osprey has recolonised naturally.
Martin Davison, Forestry Commission ornithologist, said: "Getting another three eggs is fabulous news. This is the critical time as once eggs hatch there's a very good chance the chicks will fledge.
"Every chick born on Northumbrian soil increases the likelihood that it will spread to other parts of the country."
Ospreys were once distributed widely, but persecution resulted in the species becoming extinct in England as a breeding bird in 1840 and in Scotland in 1916. They re-colonised naturally in Scotland in 1954.