Olympic flame to stop in Alnwick, Durham and Newcastle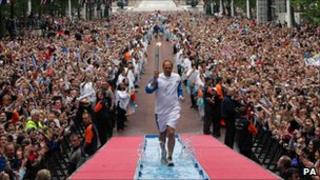 Alnwick, Durham and Newcastle will be among the stop-offs for the Olympic flame during the torch relay leading up to the 2012 Olympic Games.
Thousands of torch bearers are being recruited for the flame's 70-day journey across the UK before the opening ceremony in London.
Evening stop-offs will include Alnwick on 14 June, Newcastle on 15 June and Durham on 16 June.
The flame will be greeted with evenings of celebrations.
Northumberland County Council chief executive Steve Stewart said: "This really is fantastic news for the county and a once-in-a-lifetime opportunity for everyone involved.
"This is a chance for Northumberland residents to show their support for the Olympics and to be a part of the excitement it brings to the world."
'Olympic spirit'
The Duchess of Northumberland said: "Given the national and international media interest that follows the Olympic torch procession, Alnwick and Northumberland will briefly have the world's spotlight on it.
"I know that when the torch comes through Alnwick, the Olympic spirit will touch each and every one of us and it will be something we will all remember for years to come."
Alnwick, Newcastle and Durham are three of the first 74 locations announced. More details about the route will be announced later this year.
Durham County Council leader Simon Henig said: "This is fantastic news and offers us another wonderful opportunity to show the world just what Durham, as a county and a city, has to offer."
He added: "We will also take this fabulous moment to help County Durham residents feel the Olympic spirit, wherever they live."
'Shine a light'
Newcastle City Council deputy cabinet member for culture and leisure Councillor Ged Bell said the evening celebration would be "spectacular".
He said: "We hope it will inspire children and young people to embark on their own personal journey of achievement, promote sport and culture and provide a major boost to the local economy."
Newcastle's St James' Park will host some of the matches in the Olympic football tournament.
Stephen Savage, operational director of 2012 for the council, said: "Like the people of Newcastle and Gateshead turn out in thousands for the football, they will turn out in their absolute thousands for the Olympic flame."
The Olympic flame will arrive in the UK from Greece on 18 May 2012 and the torch relay will start at Land's End, Cornwall, the following day.
It is estimated it will be carried 8,000 miles before arriving at the Olympic Stadium on 27 July.