Cash to restore 'hidden' Victorian street in Gateshead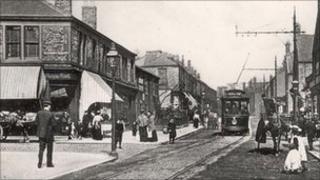 Heritage Lottery Fund cash has been awarded to help restore a "hidden" Victorian street on Tyneside.
Coatsworth Road is one of Gateshead's oldest shopping streets, but many of the historic frontages have been obscured by modern facades.
The council has earmarked support of £1.4m, including £29,700 development funding, from the Heritage Lottery Fund (HLF) to improve the area.
Work is expected to begin in 2012 and be completed by 2017.
A total of £1.9m will be invested, with just over £1.4m coming from HLF if the council secures the full grant at the second round of the application, and partnership funding making up the total.
Some of the cash will be used to provide training courses on property conservation and retail and business skills for local shopkeepers, to help them to improve their efficiency and profitability, conserve their premises, and help safeguard the area's viability.
Councillor Linda Green, cabinet member for culture, says: "It's easy to associate the nation's heritage with ruined medieval castles and grand stately homes, but in many cases heritage is literally just around the corner, even if we don't always see it.
"We initially declared the area around Coatsworth Road a conservation area because of its unique character, but in time some of that character has become obscured by the modern world.
"Support from the Heritage Lottery Fund will allow us to restore some of the features which originally led us to declare it a Conservation Area, and to breathe new life into the whole area."