Newcastle player Nile Ranger 'regrets' handgun photo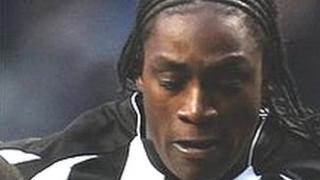 Premier League footballer Nile Ranger has expressed "regret" after being photographed in a gangster-like pose holding a replica handgun.
The Newcastle United striker appeared in The Sun newspaper wearing a hooded top holding the silver handgun in front of his face.
The photograph was apparently taken at his home by his girlfriend.
In a statement, the club said officials had spoken to the 20-year-old, who now regretted posing for the photograph.
Street robbery
A club spokeswoman said: "The club have spoken to Nile and can confirm that the item shown in the photograph is a replica firearm which it is not an offence to own.
"Nile regrets posing for the photograph, which was taken by his girlfriend at home.
"The club will be speaking with the player this week about the importance of being a positive role model to young fans."
The player was a substitute in Newcastle's game at Chelsea on Sunday and played a part in setting up his side's late equaliser.
He served an 11-week sentence in a young offenders' institution when he was 15 after he took part in a street robbery.
The London-born England Under-19 player, moved to Newcastle in July 2008 following his release by Southampton.