MPs urge rethink on Newcastle gallery funding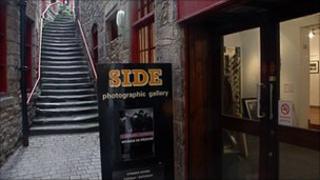 The Arts Council is being urged to rethink its decision to cut funding to the Side Gallery in Newcastle.
Six North East Labour MPs, led by Easington's Grahame Morris, have signed a Commons motion.
Arts Council England axed the funding for the gallery in March.
The Commons motion claims the gallery is the only one of its kind in the country dedicated to humanist documentary photography.
Graeme Rigby from Side Gallery said: "[The MPs] have been really supportive right from the beginning.
"We've done a lot of work in Easington and Durham which is why Grahame Morris has been really supportive.
"We recognise the difficulty that the Arts Council finds itself in and have made cuts that weren't of its choosing.
"We've put in an appeal and I think The Arts Council have been impressed with the scale and the quality of the response to the Side Gallery decision. There has been a widespread sense of shock and outrage."
'Metropolitan view'
The Commons motion was published on Thursday.
Newcastle North MP Catherine McKinnell said: "This government needs to remember that protecting our cultural heritage is vital, once it is gone it is gone forever and will be lost to the next generation."
Gateshead MP Ian Mearns said: "It seems to me that the Arts Council seem to be taking a very South East metropolitan view of their funding programmes from my perspective.
"[The Side Gallery] has got the potential to be a little bit different and I think you do see some really interesting displays there."
Other MPs who backed the motion included Ian Lavery MP, Mary Glindon MP and Stephen Hepburn MP.