What will Durham's new women freemen be able to do?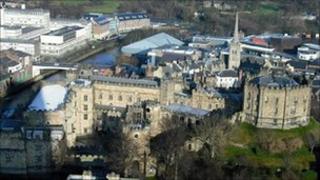 A change in the law and a year of legal argument means 700 years of Durham's history has been reversed and the city's freemen can now include women.
The freemen of nearby Newcastle had campaigned for equal rights and, in 2009, were rewarded with the Local Democracy, Economic Development and Construction Act which overturned the previous ban on women.
But Durham's freemen had a problem.
Earlier attempts to boost numbers by admitting the husbands of the daughters of freemen - but still not the daughters themselves - had been set in stone in the Durham City Council Act of 1985.
The chairman of Durham's freeman, John Heslop, said this came about after staunch opposition to moves to increase membership by admitting women.
He said: "I think one of my predecessors said 'over my dead body will women will become part of this organisation'.
"So the daughter couldn't be a freeman but the husband of a daughter could be. Real emancipated stuff, you know," he laughs.
Durham's problem with the 2009 act was a clause stating any relevant acts of parliament still stood.
Durham needed to remove the 'son-in-law' provision in the 1985 act before it could move forward.
The freemen's attempts to get the necessary permission to proceed have taken well over a year.
In that time there have been 300 women sworn in as freemen in Newcastle, with 38 more currently going through the process.
Becoming a freeman
Contrary to popular belief a freeman is not someone who is given freedom of the city.
Originally they were members of craftsmen's and trades' guilds - the medieval equivalent of a trade union - in shire towns across the UK.
They could pass the title on to sons - but not daughters - and the honour could be conferred on men who had completed a recognised apprenticeship within the city or under the tutelage of a freeman.
All three routes to membership still exist though Mr Heslop points out it is less easy in the modern world to decide what counts as an apprenticeship.
Where once Freemen had positions of authority similar to those of local councillors, their remaining privileges are largely nominal.
In Durham they have herbage rights on The Sands, an open space in the city centre, but nobody takes their cattle for a graze anymore.
But they do in Newcastle where cows on the Town Moor are a familiar sight.
Freemen also raise thousands of pounds for good causes and can use their rights to certain land to raise money.
Other than that, Mr Heslop says, freemen attend an annual dinner and also four guild days where new members are sworn in.
This is something he is hoping to change.
New blood
The admission of women was not entirely popular with what Mr Heslop calls "one or two dissenting voices" among older members.
He said: "I've had two or three wives of freemen who said they disagree with women becoming members because it throws away tradition and heritage and custom and practice."
Within Mr Heslop's own family there are 16 potential recruits and he has already had other enquiries.
He said: "There are an awful lot of latent freemen, if you want to call it that."
He thinks many women will join just because they can and this momentum might encourage eligible men who had previously not been interested.
Stuart Wright, a Durham undertaker and a freeman, wasted no time in suggesting a candidate, his time-served apprentice, Lynne Swann.
He said: "As a freeman I was brought to the brotherhood by other freeman and part of our remit as freemen is to bring new members in.
"There's no-one better than this lady who's dealt with thousands of Durham people over the years."
Mrs Swann, a funeral arranger, said: "When he suggested it to me I was taken aback at first.
"I have worked with Stuart for nearly 14 years now...and dealt with so many people and it would just be a wonderful opportunity and an honour, a privilege."
The widow of a freeman, Rita Brown has seven possible new applicants in her family and is delighted with the change in the law.
She said: "I'm over the moon that this is happening, for him.
"When they first brought son-in-laws my husband was dead against it, he said then it should have been daughters, so I'm pleased it's happened now, better late than never."