Kielder scenic railway viaduct to reopen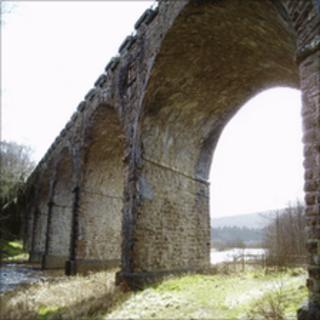 A 19th Century railway viaduct which has been shut for more than 50 years is being brought back to life in the depths of Northumberland this summer.
Kielder Viaduct, at Kielder Water and Forest Park, will be a main route for people taking the 26-mile (42km) route of Europe's largest man-made lake.
The viaduct, part of the Lakeside Way, is expected to reopen in time for the Kielder Marathon.
Built in 1862, it was originally used for the Border Counties Railway.
However, it was shut in 1958.
The viaduct provided a vital lifeline for small rural communities, originally intended to serve the colliery at Plashetts, which is now submerged deep under the Kielder Reservoir and other small mines in the area.
Lakeside Way
Work has begun building paths, which will have disabled access, leading to Kielder Viaduct to allow Lakeside Way users to cross the viaduct instead of using a public road nearby.
It will give visitors new views down into Bakethin Nature Reserve and up towards Kielder Castle, which previously could not be seen from the current route.
Dr Geoffrey Purves, who owns the viaduct, said: "Kielder Viaduct has been open to visitors for many years after the railway was removed, but at present it is slightly off the beaten track and not easily found.
"It is great that we will be able to give easier access to visitors of Kielder Water and Forest Park."
The work is due to be completed by June.
Alex MacLennan, from the Forestry Commission, added: "We are delighted to have this as one of the main features on the Lakeside Way in time for the busy summer season and for the future as it is a truly breathtaking viewpoint."