Ferry stuck on mudflats in River Tyne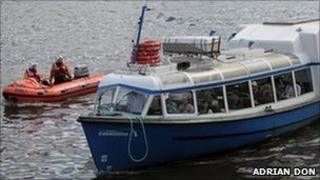 About 20 people on board a tourist boat had an extended trip on the River Tyne when their ferry became stuck on mudflats.
The passengers and two crew became trapped on the Coventina for about an hour near Newburn bridge on Sunday.
The coastguard was alerted and the Tynemouth RNLI inshore lifeboat towed the stranded vessel off the mud and escorted it to its Newcastle moorings.
No passengers were hurt. A faulty echo sounder is thought to be the cause.
Volunteer RNLI helmsman Alun Ross said: "It's rare for us to be tasked to a service so far inland, but RNLI training prepares us for any situation that we might find ourselves in."