Labour takes back Newcastle from Lib Dems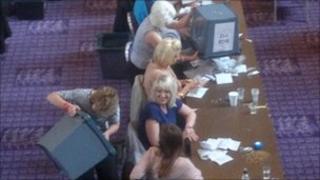 Labour has taken back control of Newcastle after seven years and held on to Gateshead, Sunderland, and South Tyneside councils.
The party had been in charge in Newcastle for 30 years but lost to the Liberal Democrats in 2004.
In North Tyneside Council, Labour gained six seats and now has 35 seats, although no party took overall control.
Sunderland was the first authority to finish the count.
The city's results were declared at about 0100 BST, with Labour gaining four seats from the Conservatives.
In Gateshead, Labour won five from the Liberal Democrats, and in South Tyneside it gained one Lib Dem seat, one Conservative, and one other.
In Newcastle, the Lib Dems lost 10 seats to Labour which now has 43 seats and holds overall control.
'Lib Dem trouncing'
Labour group leader, councillor Nick Forbes, described it as a "stunning result".
"It's a trouncing for the Lib Dems," he said.
"People are punishing them not just for some of the strange spending decisions which they have taken in the city, but for their role in the coalition as well."
He added: "The reason we've had such budget cuts in Newcastle is because the government has treated Newcastle very unfairly indeed.
"The Lib Dems have been silent on that, but we will be standing up to the government on unfair cuts."
David Faulkner, the now-previous Lib Dem council leader, described the result as disappointing, but denied it was Nick Clegg's fault.
He said: "It's easy to blame a person but Nick represents a decision we made as a party [to go into coalition].
"He was a good leader in opposition, and I think he still has the good qualities which will inspire us in the future."