Berwick horse parade marks cross border conflict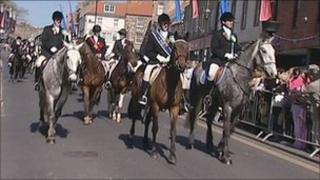 Up to 100 horse riders took part in a centuries-old event reflecting conflicts between England and Scotland.
The Riding of Berwick's Bounds is in its 402nd year and recreates the patrolling of boundaries between the two countries.
Sunday's 15-mile ride attracted hundreds of spectators to the town.
The event dates back to when representatives from England and Scotland agreed where one country would end and the other begin.
Records show that as early as 1542 the bounds were regularly patrolled to remind people where the boundaries lay.
It was later recommended that the bounds be ridden once a year to check that the area was secure.
The event started at Berwick Barracks as riders, led by chief marshall Shaun Eltringham, headed to the Guild Hall in Marygate to seek permission from the mayor to check the town's boundaries were intact.
A spokesman for Northumberland County Council said: "While the need to protect against encroachment by the Scots has long since past, the ride is still a much celebrated part of Berwick tradition.
"The Riding of the Bounds is an age-old tradition and it is important that we keep it alive."