Sir Patrick Moore turns pop star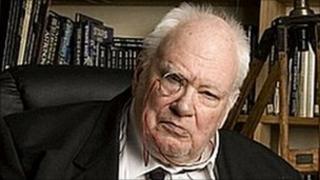 Veteran Sky At Night presenter Sir Patrick Moore has lent his voice to a "cosmic rock song" written by a Northumberland musician and composer.
Carl Cape, 26, wrote Glittering Sky after being inspired by the night skies above his Morpeth home.
He asked the 88-year-old presenter to add his voice to the song when he interviewed him for community radio.
Mr Cape said Sir Patrick was a "true professional" and recorded the lyrics in a single take.
Mr Cape, who works in public relations, said: "Sir Patrick has inspired me over the years since I started watching the Sky At Night as a kid.
"When i decided to write something to reflect what I could see every night in the skies above Northumberland I came up with the line 'I can see a million stars' and thought straight away about Sir Patrick.
"When I had a chance to interview him for my local community radio station I asked him to do the words and he was just great.
"Although he did tell me he wasn't too keen on some of the loud drums I will have on the finished track.
"He was as sharp as a button and I was just in awe of him."
Sir Patrick, who began presenting The Sky At Night in 1957, said: "When Carl asked me to contribute some words to his music I was delighted to oblige."