Ospreys return to Northumberland from Africa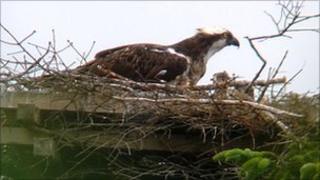 A record breaking pair of ospreys have returned from Africa to their nesting site in Northumberland.
The pair were the first to breed on record in Northumberland for 200 years back in 2009 on a specially-built platform near Kielder Water.
They successfully raised three chicks in 2009 and then another three in 2010.
The ospreys have until early September to mate, produce chicks and teach their offspring to fish for themselves before going separate ways again.
They have undertaken a mammoth 10,000-mile round trip to Africa after leaving Kielder Water and Forest Park last August and it is hoped they will breed for a third consecutive year.
Mike Pratt, of Northumberland Wildlife Trust, said: "We're all delighted the ospreys are back at Kielder.
Raise a family
"The male arrived some time ago and we've been waiting with baited breath for his partner to return too.
"She was fashionably late but we can confirm we have now spotted both of them on the nest."
The Kielder ospreys are thought to originate from the expanding Scottish population.
Ospreys were once distributed widely, but persecution resulted in the species becoming extinct in England as a breeding bird in 1840 and in Scotland in 1916. They re-colonised naturally in Scotland in 1954.
Ian Robinson, The Royal Society for the Protection of Birds (RSPB), said: "We have cameras on the nest and we have spotted the female eating a huge fish.
"The male has been displaying and preening himself.
"We look forward to seeing an aerial courtship display now and all being well they will once again raise a family."