Weardale royal watcher's lone wedding journey to London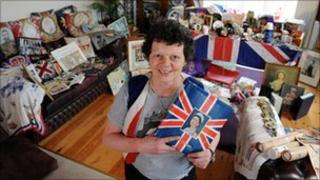 Anita Atkinson is going to the royal wedding but her front row seat will be on the pavement outside.
The editor of the Weardale Gazette is a fervent royalist and will be camping for two days to make sure she gets a good view.
She said: "I've lost count of how many people have said, 'Oh, you'll be going to the wedding then' - it's not even a question.
"And what was it someone said? 'Have you got a seat in the front pew?' No, I've got a seat on the front pavement!"
Her friends, perhaps understandably, do not fancy two nights on concrete, so Anita is going alone.
But, she said, she will not be lonely. Friends are easily made among the crowds.
At the Queen Mother's funeral she met a couple who had come all the way from South Africa.
Non-stop entertainment
Anita plans to camp in the same place and is expecting a similarly lively night.
She said: "The entertainment didn't stop. There's entertainers, there's jugglers, there's unicyclists.
"It goes on all night. And that was even at the funeral, so I don't know what it's going to be like at a wedding."
She remembers the odd sight of men hanging from trees, "lopping branches off at about four o'clock in the morning.
"The world's press and television cameras, they must have said 'that branch is getting in the way'.
"And there was a bloke on a little street cleaning machine going backwards and forwards. Every time a pigeon dropped on the floor, he whipped up there and washed it."
Anita is not going to get a lot of sleep and, at 54, she thinks she is getting too old to be camping on a pavement.
But she brushes off suggestions that she would see more sitting in front of her telelvision at home.
"What you can't glean off the telly is the atmosphere.
"It's just incredible, you can cut it with a knife. It just catches everyone and you're all taken up with it."