Osprey seen near Kielder Forest nest site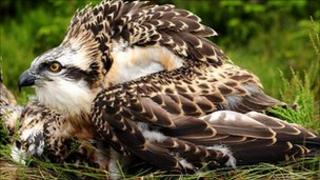 One of a pair of breeding ospreys who parented the first chicks born in Northumberland for more than 200 years, has returned to the county.
The male has been seen near a specially-created tree-top nesting site in Kielder Forest.
Three chicks were raised last year and experts hope more could appear this year if the female turns up.
In 2009 the pair became the first on record to breed in Northumberland and raise healthy chicks.
Neville Geddes, of the Forestry Commission, said: "This is the fantastic news we've all been waiting for.
"We've had several sightings of one of the ospreys and we think it is the male who normally returns first.
Expanding population
"We're hoping for his female mate to join him and estimate that it could be any time in the next week.
"They have until early September to mate, produce chicks and teach the offspring to fish for themselves before going their separate ways and heading south once again."
The Kielder pair are thought to originate from an expanding population in Scotland.
Ospreys were once distributed widely, but persecution resulted in the species becoming extinct in England as a breeding bird in 1840 and in Scotland in 1916.
Some birds re-colonised Scotland in the 1950s and today there are about 200 pairs.
They have re-colonised the Lake District and have been re-introduced at Rutland Water in the East Midlands.