South Tyneside Council swaps flowers for plastic blooms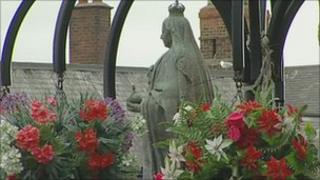 A North East council has replaced the flowers in its hanging baskets with plastic ones in a bid to save money.
South Tyneside Council must make savings of £35m a year after recent budget cuts and said the maintenance cost of the baskets was "high".
For a trial period, it has replaced the blooms hanging outside South Shields Town Hall with fake ones.
A council spokesman said it would consider "feedback" before making the flowers permanent.
Reaction to the hanging baskets has been mixed with some passers-by calling them "tacky and cheap".
A spokesman for the Labour-run council said: "We received feedback that some local authorities are trialling the use of artificial flowers to reduce their maintenance costs.
"Our trial is for hanging baskets only because the maintenance costs associated with them are so high.
"It does not affect other forms of planting across the borough - we will be considering feedback before making a decision on its future."