Northumberland's Vindolanda centre unveils new building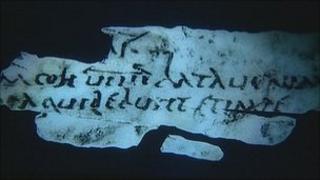 A £1.5m building to house archaeologists at a tourist attraction in Northumberland has opened.
Vindolanda and the adjoining Roman Army Museum on Hadrian's Wall, near Hexham, is home to the oldest surviving handwritten tablets in Britain.
The museum recently underwent a £6.3m revamp and and has now opened its £1.5m Hedley Centre.
The purpose-built accommodation will house 10 diggers who will be on site from Monday and across the summer.
The writing tablets at the site detail hundreds of expenses claimed by Roman officials.
Dr Andrew Birley, director of excavations for the Vindolanda Trust, said: "The Hedley Centre will provide us with opportunities to accommodate more people and provide visitors with an enhanced excavation experience."