Police dog dies after roof plunge in Gateshead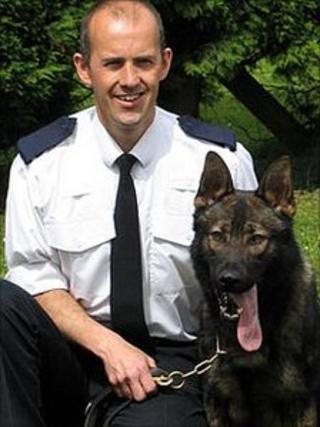 A police dog died after falling from a roof while searching for suspected intruders at a Tyneside building.
Baz, a six-year-old German Shepherd, was with officers searching the building in Gateshead when the incident happened on Thursday.
Northumbria Police said Baz was due to retire from duty, which included firearms support work, the next day.
Pc Gary Saunders, who had been Baz's handler since he was 10 weeks old, said the incident had left him "devastated".
PC Saunders said: "The sudden and tragic death of my police dog Baz has been a devastating experience for me, my family and many close friends.
"It has been one of the worst things I've encountered in 26 years of policing.
"Baz was a fearless and faithful partner who has, with me, encountered numerous highly dangerous situations but has died doing what most police dog and handler teams consider to be routine operational work."
Sgt John Sim, who is in charge of the Northumbria Police dog section, said: "Police dogs live at home with their handlers and they become part of the family. He had formed a strong and lasting bond with his handler and his handler's family."