Thomas Gainsborough portrait 're-worked by rival'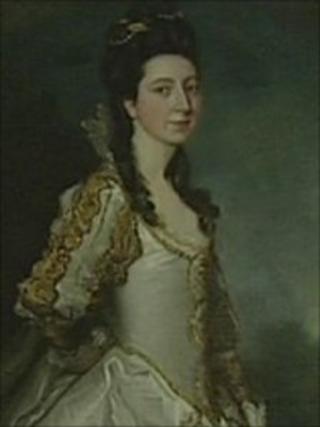 A portrait by Thomas Gainsborough which hangs in a Northumberland country house could have been re-worked by his rival, it has emerged.
The portrait, of Susannah "Suky" Trevelyan, has hung at Wallington since 1761.
Rumours passed down through generations of the Trevelyan family claim it may have been over-painted by his rival Sir Joshua Reynolds.
Investigations reveal that as much as 80% of the portrait may be reworked.
The results of X-ray and infra-red imaging are being collated and studied to see the extent to which Gainsborough's painting was modified.
The re-working was said to have followed a dismissive comment by a visitor to Wallington who called the work "a painting of a hat and ruffles" - but the identity of the real artist is still open to speculation.
The changes made include adapting Susannah's dress and repainting jewellery and an oversized hat - the ghost of which is still visible.
Today the portrait shows a young woman dressed in a white and gold satin dress, her dark hair cascading in ringlets past her shoulders.
'Changing fashions'
Detailed examination has also compared the similarity between the dress worn by Susannah in the reworked version and that on Charlotte Walpole, Countess of Dysart, credited to Reynolds, which hangs at the National Trust's Ham House near Richmond.
Lloyd Langley, house and collections manager at Wallington, said: "It is too early to say the extent to which Reynolds or another artist may have re-worked the painting.
"He regularly employed assistants, sometimes only doing 20% of the work himself."
Nicky Grimaldi, senior lecturer in conservation and fine art at Northumbria University who led the research, said: "While it was not uncommon for pictures to be tweaked as fashions changed, I am surprised by the extent of the reworking.
"It is still early days to speculate as to when the changes were made and by whom."
The painting will go back on display at Wallington on Saturday when visitors can compare it with X-rays and photographic images of the Gainsborough original.
Susannah "Suky" Trevelyan was born in 1736 and was the niece of Sir Walter Calverley Blackett.
Her portrait was painted by Gainsborough in 1761 when she was 25.
The portrait, believed to have been a gift for her uncle, was most probably painted in Bath.