Raoul Moat accomplices get minimum 40 and 20-year terms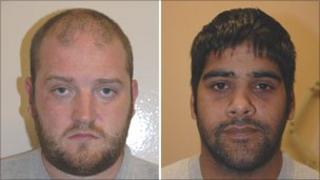 Two men found guilty of helping gunman Raoul Moat have been jailed for life, with minimum 40 and 20-year terms.
Karl Ness, 26, and Qhuram Awan, 23, were convicted on Friday of helping Moat carry out his shooting rampage.
At Newcastle Crown Court, Ness was given a 40-year minimum term, while Awan must serve at least 20 years.
Mr Justice McCombe said: "The roles played by these two defendants cannot be minimised... [they] willingly joined in a plan to commit random murders."
Ness was convicted of the July 2010 murder of Chris Brown, the partner of Moat's ex-girlfriend Samantha Stobbart.
Both were found guilty of the attempted murder of Pc David Rathband, conspiracy to murder and robbery.
Ness, of Dudley, North Tyneside, was also convicted of possession of a firearm with intent to endanger life. Awan, of Blyth, Northumberland, was cleared of that charge.
The judge said: "The roles played by these two defendants cannot be minimised.
"While the offences may not have been committed without Moat, it is difficult to see that they could have been committed in the manner they were without Ness and Awan respectively."
He said Ness and Awan were a danger to the public.
"Each defendant willingly joined in a plan to commit random murders of police officers, knowing precisely what Moat had already done to Mr Brown and Miss Stobbart," he said.
"The plan resulted in an offence that nearly achieved the aim."
The pair had denied all counts and claimed they had been held hostage by Moat.
Ness always admitted that he had travelled with Moat to the scene of the shootings in Birtley, Gateshead, where Mr Brown and Miss Stobbart were shot, but said he had stayed in the van.
Awan helped the pair afterwards by driving a getaway car to a woodland hideout.
Awan drove Moat to the junction of the A1 and A69 where Moat shot Northumbria Police traffic officer Pc Rathband, 43, and left him for dead.
Pc Rathband was blinded when Moat shot him in the face.
Miss Stobbart, 22, who had been seeing Mr Brown, 29, while Moat was in prison was seriously injured and needed hospital treatment.
Pc Rathband was in court and wept as the details of his injuries were outlined.
'Easily led'
Speaking outside court, he said: "Both Ness and Awan will be very old people before they are released or considered for release and long may they stay there.
"These two individuals, along with the other coward who wasn't man enough to stay here, have taken my job from me.
"I am now blind for the rest of my life.
"It will be me who decides when I will leave, not these three individuals. I will continue as long as I possibly can in the job I love."
Following the shootings, a manhunt started for Moat.
The 37-year-old died after a six-hour stand-off with police in Rothbury, Northumberland, on 10 July.
Defending Ness, Paul Sloan QC said: "Had it not been for Moat, none of these offences would have been committed."
Jeremy Carter-Manning, defending Awan, also referred to Moat saying: "This trial is Hamlet without the Prince."
He said psychiatric tests showed his client was "easily led" and that he remained "horrified" by the officer's shooting.
Det Supt Jim Napier, of Northumbria Police, said: "We welcome these sentences, which reflect the severity of the crimes Karl Ness and Qhuram Awan were involved in.
"Both men now have a long time in which to reflect on their cowardly actions which left one man dead, two people seriously injured and countless others traumatised.
"Throughout that week last July both men had numerous opportunities to stop these unfolding events and prevent people being killed and injured.
However neither took any responsibility for their actions."