Men guilty of helping gunman Raoul Moat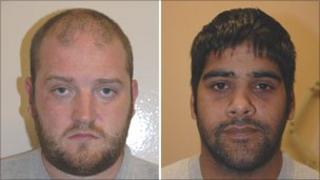 Two men have been found guilty of helping gunman Raoul Moat.
Karl Ness, 26, and Qhuram Awan, 23, had denied all the charges linked to the shootings by Moat in July last year and claimed they were taken hostage.
But Ness was found guilty of the murder of Chris Brown - the partner of Moat's ex-girlfriend Samantha Stobbart.
Both men were found guilty of the attempted murder of Pc David Rathband, conspiracy to murder and robbery at Newcastle Crown Court.
Ness, of Dudley, North Tyneside, was also convicted of possession of a firearm with intent to endanger life. Awan was cleared of that charge.
Pc David Rathband was left blinded when Moat shot him in the face. Samantha Stobbart, 22, who had been seeing Mr Brown while Moat was in prison was left seriously injured and needed hospital treatment.
Relatives of the victims cried "Yes" when the unanimous verdicts were read out.
One male jury member appeared overcome by the emotion in the court room and had his head in his hands.
Mr Justice McCombe said: "A lot of people have been seriously affected by this case."
Speaking outside the court, Kingsley Hyland, a senior CPS lawyer, said: "It was the Crown's case that Karl Ness and Qhuram Awan, at different times, willingly engaged with Moat in full knowledge of what his intentions were.
"The jury have accepted that. Ness and Awan will now have a considerable time to reflect upon the consequences of allying themselves to Moat and his murderous intentions."
Ness and Moat had been friends for seven years, having got to know each other through repairing and selling second hand cars.
Ness, who grew up in Wallsend left school with no qualifications and picked up convictions as a youth for criminal damage, but had no record of violence.
It was Ness to whom Moat turned when, while in prison, when he became convinced Miss Stobbart was seeing someone else.
He ordered Ness to spy on her, asking him to go through her bins and check her Facebook account.
Det Supt Jim Napier, or Northumbria Police, said: "Ness was a very close associate of Moat's; you could probably refer to him as Moat's right hand man. He did a lot of running about for Moat, a lot of his dirty work."
"There is no doubt in my mind Ness was responsible along with Moat for the death of Chris Brown. Moat did not act alone," he added.
"Ness worked with him willingly to try and help find Samantha Stobbart's new boyfriend. They were almost inseparable."
Ness always admitted that he had travelled with Moat to the scene of the shootings in Birtley, Gateshead, but said he had stayed in the van.
Part-time mechanic and doorman Awan, of Blyth, Northumberland, helped the pair afterwards by driving a getaway car to a woodland hideout.
The next day Awan drove Moat to the junction of the A1 and A69 where Moat shot Northumbria Police traffic officer Pc Rathband, 43, and left him for dead.
Both men helped the fugitive rob a Northumberland chip shop and set up his campsite in a farmer's field.
Sentencing was adjourned until Tuesday.