Raoul Moat victim's mother tells of ordeal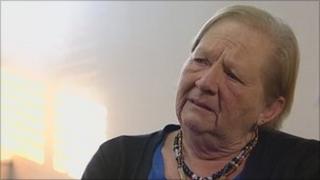 Sally Brown turned on the television to learn that a man had been shot dead on Tyneside.
By the end of the day the police would tell her that the dead man was her son Chris, gunned down outside his girlfriend's house by Raoul Moat.
"I'm watching this on the news," Mrs Brown said. "And I've sat down and I'm thinking to myself 'Oh God. That poor mother.'
"There have been so many [killings] lately and I turned it off because I can't watch it any more."
Later, she and her neighbours in Slough helped organise a street party to celebrate the birthday of a neighbour's young daughter.
"We were all sat there, all having a laugh, and the police car pulled into the estate and we all, jokingly, said 'Some poor bugger has got it. They're coming to get somebody.'
"And they walked across to us and said: 'We're looking for Mrs Brown', so of course my daughter's said 'Oh mum, what you been doing?'
"I laughed and said 'Don't be daft. It's probably my TV licence or something stupid.'
"They've said 'Can we go in?' So we've gone in and that's when they told us."
Mrs Brown said she can recall hearing her daughter screaming.
"I can remember going out with the police and I just happened to glance round and I could see all the neighbours stood there crying.
"It was just so unreal, and then it dawned on me. I am stood there in the morning watching this poor soul and it was my son.
"I got a pain in my chest, and it hasn't gone yet. It's still there."
Mrs Brown has been comforted since that day by her daughter Beckie, 33, and police family liaison officers have been by her side as she has sat in the public gallery at Newcastle Crown Court for the trial of Karl Ness and Qhuram Awan.
More than once she has had to leave the court in tears.
She said she initially shut herself off from the coverage of the Raoul Moat story, but has now started reading newspapers again and found it tough.
'Not Geordieland'
She said: "In the papers, it's him (Raoul Moat). They are always showing him. What about my Christopher? It's as if Christopher has been pushed under the carpet... as if he doesn't exist.
"Why him (Moat)? He's gone wherever he deserves to go. Let him go. But my son was the victim.
"He was the one that was killed, but no-one wants to know anything about Christopher, because there was nothing sordid or nasty. He was just an everyday lad."
Mr Brown, who was 29, had trained as an instructor for a company which runs karate classes, and it was his job which first took him to Tyneside.
He left his home in Slough in October 2009 and his mother never saw him again.
"He went up for the weekend on a Friday night and he was due to come back on the Sunday," she said.
"But I got a telephone call to say he was staying."
Chris had a series of girlfriends, and Mrs Brown says he "played the field", moving on from one girl to another.
Samantha Stobbart, Raoul Moat's former partner, was his latest girlfriend, but he had not told his mother about her.
The fact that he had decided to stay on Tyneside was news which Mrs Brown did not welcome.
"I said 'Not Geordieland, please'," she chuckled. "Because I had never come across a good one (a Geordie)."
But she says the relationships she has built up with individual police officers and the people she has met while attending the trial have changed her opinion.
She said: "They've been absolutely brilliant to me. All the people I have met. They really are nice."