Newcastle's Theatre Royal fittings in auction sale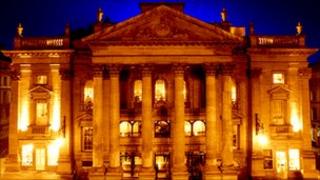 People had the chance to bid for a piece of theatre history at a sale in Newcastle.
The Theatre Royal is closing for a £4.75m revamp, to be completed in time for its 175th anniversary in 2012.
Various items from the Grade I listed building which did not fit the new design were sold at an auction in the theatre's auditorium on Sunday.
On sale were 445 seats, as well as curtains, fittings such as chandeliers and even some old coal scuttles.
Speaking before the sale, Richard Berg Rust, the theatre's director of development, said: "The grand auction is a very exciting event for us, something which has never been done here before.
"A lot of these items carry historical importance, are completely unique and, what's more, every item tells a story.
"It's not every day you get the chance to own a piece of the Theatre Royal."