Freshwater pearl mussels breeding in Northumberland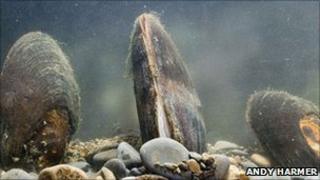 Efforts to get "fussy" pearl mussels to breed have paid off.
For the last seven years the Environment Agency has been trying to recreate breeding conditions at Kielder Hatchery in Northumberland.
During the endangered molluscs' unusual breeding process, fertilised eggs need to "latch" on to fish to develop.
Now the work has paid off with 6,000 baby sea trout playing host to pearl mussel larvae.
Agency experts said the species is "incredibly fussy" when it comes to breeding conditions and need very clean water to thrive.
Biodiversity officer Anne Lewis said a build up of sediment in North East rivers had also deterred breeding.
She said: "They are incredibly fussy breeders so we tried to encourage them to by bringing them to the hatchery.
"But after five years nothing was happening, so two years ago we created an outside stream at the hatchery to make conditions less artificial and this seems to have worked.
"But we still have a lot of research to carry out to see what we can do to encourage breeding."
Illegal fishing
Agency biodiversity team leader Jim Heslop added: "We now have thousands of larvae which will eventually become young mussels and help to turn round the fortunes of the population."
During the pearl mussels' breeding cycle, fertilised eggs ripen in the female breeding pouches before being released as larvae.
These attach themselves to the gills of fish to develop into tiny mussels.
The mussels, which then establish themselves in rivers, can live to 100 years old but are endangered - largely due to illegal fishing for the pearls they produce.
The sea trout hosts with the attached larvae are due to leave the Kielder Hatchery and be released into the River Rede later this week.
Pearl mussels can grow up to 15cm in length.