Gateshead church to become arts base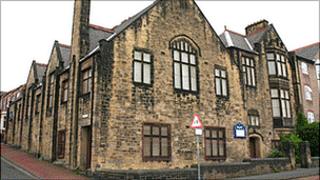 A Grade II listed church in Gateshead is being converted to house budding artists and designers in a project that will create almost 20 new jobs.
Brighton Road United Reformed Church will be used to create work areas for a range of creative businesses.
The Mushroom Works Community Interest Company, which is behind the project, won funding of £450,000 from the European Union and the Arts Council.
The scheme is seen as bolstering a so-called "creative cluster" in Gateshead.
About 50% of funding came from the European Regional Development Fund (ERDF).
Nick James, director of Mushroom Works, said: "Funding from ERDF has been invaluable to take this project forward, providing additional space for creative practitioners in a deprived community within Gateshead.
"There is currently no permanent workspace provision for creative practitioners in Gateshead.
"There is a need for such specialist business features, making a valuable link to the creative cluster development at the Northern Design Centre in Gateshead's Baltic Business Quarter and former Toffee Factory in Ouseburn, Newcastle."
Lesley Calder, head of Europe and skills at regeneration agency One North East, said the project would "create long-term benefits for the area as well as the businesses who will be based there".