Illness halts trial of men accused of aiding Raoul Moat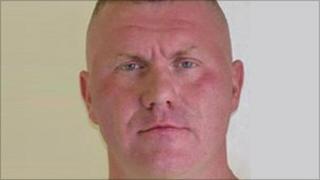 The trial of two men alleged to be accomplices of gunman Raoul Moat has been halted due to illness in the family of a juror.
No evidence in the case against Karl Ness and Qhuram Awan will be heard until Friday.
Karl Ness, 26, denies the murder of Chris Brown, partner of Moat's ex-girlfriend Samantha Stobbart.
He and Qhuram Awan, 23, also deny the attempted murder of Pc David Rathband, who was shot and blinded by Moat, 37.
Moat died after a six-hour stand-off in Rothbury, Northumberland, in July.
He had been on the run after shooting Ms Stobbart, killing her new boyfriend, and blinding Pc Rathband by shooting him in the face.
Open window
Earlier, prosecutor Robert Smith QC told the court that Mr Ness and Moat exchanged a series of text messages as Moat waited with a loaded shotgun and ammunition beneath the window of a house in Scafell, Gateshead.
Ms Stobbart and Mr Brown, who was originally from Slough in Berkshire, were inside, having been out for the evening at a local pub.
The court heard Moat had told Ms Stobbart he wanted to meet to have "a straightener" with Mr Brown.
Moat had discovered that Ms Stobbart's claims that her new partner was a police officer were false.
In the text messages, Moat described to Mr Ness hearing the couple talking about him as he lay in wait beneath the open window.
The jury heard that Mr Ness, of Brookside in Dudley, North Tyneside, worked for Moat's gardening firm and kept the business and his home running while his boss was in jail, the court heard.
Mr Awan, of Rowley Street in Blyth, Northumberland, was a friend of Mr Ness who worked at a garage in Byker, Newcastle, which Moat began to use.
The prosecution said it should be made clear that Mr Awan was not there when Moat shot his love rival and his ex-girlfriend.
The trial continues on Friday.