Elderly motorist stranded on Holy Island causeway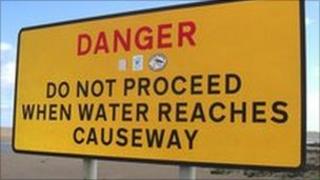 An elderly motorist had to be rescued from a Northumberland causeway after being stranded by the rising tide.
Seahouses Inshore Lifeboat was sent to Holy Island causeway by road to deal with Wednesday's incident because of the strong winds and rough sea.
A spokesman said: "The trapped vehicle could be seen, virtually floating, with the sea breaking over it.
"The lady had made her way to the refuge box and was clearly distressed."
The woman, believed to be from the Berwick area, did not require medical attention and was taken to an inn on the mainland to recover.
The call-out was the lifeboat's first this year.
The movements of the tide mean the causeway is under water twice a day.