Accused 'messaged Raoul Moat before killing'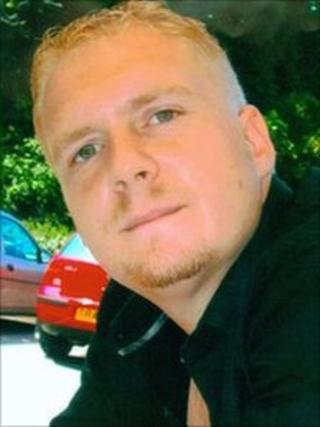 A man accused of helping Raoul Moat carry out a "calmly delivered execution" exchanged a series of text messages with him prior to the killing, a court has heard.
Karl Ness denies the murder of Chris Brown, partner of Moat's ex-girlfriend.
He and Qhuram Awan also deny the attempted murder of a policeman who was shot and blinded by Moat, 37.
Newcastle Crown Court heard Mr Ness was waiting in a nearby transit van as the gunman struck.
Moat died after a six-hour stand-off in Rothbury, Northumberland, in July.
He had been on the run after shooting his former girlfriend Samantha Stobbart, killing her new boyfriend, and blinding Pc David Rathband by shooting him in the face.
Prosecutor Robert Smith QC said Mr Ness and Moat exchanged a series of text messages as Moat waited with a loaded shotgun and ammunition beneath the window of a house in Scafell, Gateshead.
Ms Stobbart and Mr Brown, who was originally from Slough in Berkshire, were inside, having been out for the evening at a local pub.
The court heard Moat had told Ms Stobbart he wanted to meet to have "a straightener" with Mr Brown.
Moat had discovered that Ms Stobbart's claims that her new partner was a police officer were false.
Open window
"I know he teaches karate in Pelton and Birtley and if I don't see him today I'll just come down his lessons," he told her.
In the text messages, Moat described to Mr Ness hearing the couple talking about him as he lay in wait beneath the open window.
The first message, sent by Mr Ness to Moat at 0107 BST, said: "We will all miss you mate, if it goes down."
Moat replied: "On (sic) problem mate, you're the best."
Mr Smith told the court: "These messages made it clear that Raoul Moat was considering leaning into the house through the open window and shooting Chris Brown.
"In the course of police interviews Karl Ness accepted he was aware from the messages that this was Moat's intention."
Mr Brown and Ms Stobbart later left the house. Moat went on to kill Mr Brown and seriously injure Ms Stobbart.
Mr Smith said: "Moat approached Chris Brown, reloaded the gun and shot him from close range in the head.
"It was a calmly delivered execution."
Moat ran from the scene. Ness meanwhile drove to Albion Road in Byker, Newcastle, where he dumped the Transit van.
He contacted Awan and asked to be picked up.
The court heard that Moat was jailed for assaulting a child last April.
Ms Stobbart saw his jail sentence as a way to end the relationship permanently, the jury heard.
Mr Smith said Moat's "resentment smouldered" while he was in prison and he formulated a plan to kill the man he suspected his former girlfriend was with.
The jury heard that when Moat was released from prison, Mr Ness was there when he searched the internet for a karate instructor near Ms Stobbart, and calls were made to the local leisure centre.
Mr Ness worked for Moat's gardening firm and kept the business and his home running while this boss was in jail, the court heard.
Mr Awan was a friend of Ness who worked at a garage in Byker, Newcastle, which Moat began to use.
'Willing accomplice'
The prosecution claimed Moat's conversations with Mr Ness while he was in prison were part of a plan to acquire a shotgun to be used on Mr Brown, and that the defendant was "a willing accomplice".
The prosecution said it should be made clear that Awan was not there when Moat shot his love rival and his ex-girlfriend.
Mr Ness, of Brookside in Dudley, North Tyneside, denies the murder of Mr Brown, attempting to murder Pc Rathband, one charge of conspiracy to murder, one charge of possession of a firearm with intent to endanger life, and one of robbing a shop.
Mr Awan, of Rowley Street in Blyth, Northumberland, denies the attempted murder of Pc Rathband, one charge of conspiracy to murder, one charge of possession of a firearm with intent to endanger life, and one of robbing a shop.
The trial continues.