BA man Rajib Karim 'viewed civilians as targets'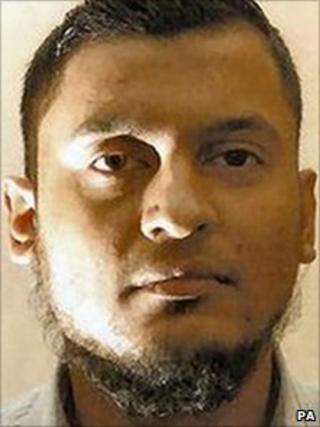 A former BA employee facing terrorist charges agreed with his brother that civilians were legitimate targets, a court has heard.
Rajib Karim is accused of plotting to blow up an aircraft and gaining a UK job to exploit terrorist purposes.
The 31-year-old Bangladeshi national, who was arrested while working at a British Airways call centre in Newcastle, denies the charges.
He has already pleaded guilty to three other terror charges.
The second day of his trial at Woolwich Crown Court focused on messages he exchanged with his brother Tehzeeb in Pakistan.
It is alleged that one of the messages from his brother read: "I hope you don't have any doubt that all the citizens around you are Muhaaribeen [fighters or combatants] and that our covenant [promise of non-aggression] with them is broken and invalid from numerous sides."
Rajib Karim allegedly replied: "No, none whatsoever.
"And the more I am mixing with them, the more my conviction is getting stronger Walhamd [by Allah]."
During one exchange, a message from his brother, encrypted but cracked by Metropolitan Police officers, read: "Having a team is always useful.
'July Seven'
"Whenever we get an agency ship from a big company, we can utilise these small teams by giving them dealership.
"And also, a small team can also be the beginning of another July Seven, if the project I mentioned is taken seriously."
The jury was also told that as well as the secret e-mails found on the defendant's hard drive, there was a voice file from the radical cleric Anwar al-Awlaqi, who is said to be in hiding in Yemen.
It is claimed they discussed attacks which Mr Karim could orchestrate against BA, and the possibility of infiltrating cabin crew to organise a "spectacular" attack involving blowing up a US-bound jet.
The prosecution said he wrote that the blood of 9/11 and 7/7 victims was "halal", permissible in Islamic law.
Mr Karim, from Brunton Lane, in Newcastle, has admitted his part in the production of a video for a terrorist group, fundraising, and encouraging others to volunteer for terrorism abroad.
He has denied plotting to blow up a plane, sharing information of use to hate groups such as al-Qaeda, offering to help financial or disruptive attacks on BA, and gaining a UK job to exploit terrorist purposes.
The trial continues.