Marked shellfish plea to Northumberland fishermen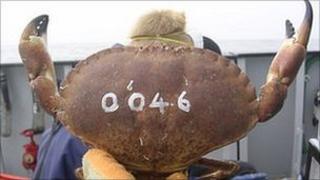 Fishermen off the Northumberland coast have been asked to be on the lookout for crabs and lobsters with numbers on their shells.
The lobster and crab industry is important for the local economy, and to ensure future sustainability research is under way into population levels.
Researchers have been catching and marking shellfish with a unique identification number.
Local fishermen who re-catch any of them are asked to report their finding.
It will help build a better picture of lobster and crab mobility, and determine population density.
Information on the number and location should be sent to the Northumberland Sea Fisheries Committee (NSFC), which is working with Newcastle University, and Natural England.
Everyone sending in a finding will be entered into a draw to win £100-worth of diesel.
Mike Hardy, chief executive of the Northumberland Sea Fisheries Committee, said: "The NSFC welcomes this new research project, which is all about assessing current levels of potting activity and stock populations as a basis for future management.
"It's particularly welcome because the lobster and crab fishery is commercially very important for north-east England but has been studied to date."