Officers seize 250,000 cigarettes at Newcastle airport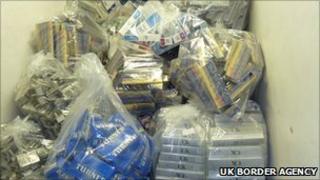 UK Border Agency officers at Newcastle Airport have intercepted more than a quarter of a million cigarettes that were being smuggled into the region.
The cigarettes were found on four separate flights from the Canary Islands in the past seven days.
Almost 70kg (154lbs) of hand rolling tobacco was also intercepted.
The haul, which was found stashed in the hand and hold luggage of a dozen passengers, will now be destroyed.
Investigations are ongoing as a result of the seizures.
Tony McMullin, the UK Border Agency's Deputy Director for Border Force North, said: "The seizure of these cigarettes is a big haul for Newcastle, and is indicative of the tight controls we have in place to protect all our borders.
'Fund crime'
"A haul of this size would defraud the government out of significant revenue at a time when the public purse can least afford it.
"Tobacco smuggling such as this is also used to fund serious organised crime, including drug smuggling and people trafficking."
HM Revenue and Customs said there were no limits on the amount of alcohol and tobacco you can bring in from EU countries - but the goods must be for personal use.
Customs officials are likely to ask questions if a person has more than 3,200 cigarettes, 200 cigars, 400 cigarillos, 3kg of tobacco, 110 litres of beer, 90 litres of wine, 10 litres of spirits or 20 litres of fortified wine.