Forests sell-off protest held in Gateshead wood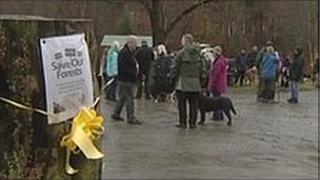 Protesters gathered at Chopwell Wood in Gateshead to fight government proposals to sell England's woods and forests.
As a symbol of the campaign, yellow ribbons were tied around trees.
Ministers want to transfer power from the Forestry Commission, which owns 18% of woodlands, to the private sector, saying this will boost public control.
Campaigners said private owners could ban horses, cycles, dogs and events. They said it had already happened to Forestry Commission land sold recently.
They said the intention of the protest was to create more awareness of the government's proposals.
Petition signed
Liz Searle, of Friends of Chopwell Wood, said, "We want people to write to their MPs and members of the House of Lords to let them know that our woodlands, and access to them, will not be safeguarded in private hands, as those already sold have not been.
"Apparently, it only costs each person 30p a year for the Forestry Commission to manage the public woods and forests. How can the government say we can't afford that?"
Many of the protesters had already signed the petition being organised by the national campaign group 38 Degrees.
The event at Chopwell was supported by members of Friends of Chopwell Wood, Chopwell Wood Horse Riding Association, North East Freeride Association and Friends of Red Kites.
'Environmental vandalism'
Shadow Environment Secretary Mary Creagh has called a debate in the Commons next Wednesday on the planned sell-off, labelling it as "an act of environmental vandalism".
She said the proposals would destroy the funding system which has protected England's forests for nearly 100 years.
In October, the Department for Environment, Food and Rural Affairs said its plans were a "new approach to ownership and management of woodlands and forests, with a reducing role for the state and a growing role for the private sector and civil society".
It said it envisaged "a managed programme of reform to further develop a competitive, thriving and resilient forestry sector that includes many sustainably-managed woods", adding that it was committed to biodiversity and other public benefits.