More than 1,000 rescued by RNLI in northern England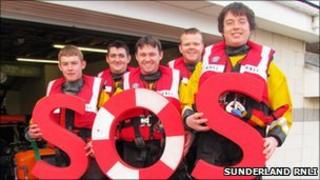 More than 1,000 people were rescued by RNLI volunteer crews in the north of England last year, the charity has revealed.
The charity said 1,013 people were rescued and its crews launched 1,090 times.
The total number of rescues was slightly below average.
The charity said this could have been because fewer people visited the seaside due to the poor weather conditions and the recession.
Andy Clift, divisional inspector north, said: "The number of rescues carried out is clearly affected by the number of people travelling to the coast and going out to sea.
"We think the poor summer weather combined with the cold, snowy conditions we experienced at both the start and end of 2010 in the north may have kept some visitors away from the coast.
"On top of this, it's possible the recession means people cut back on trips to the seaside."
'Remarkable commitment'
The busiest lifeboat station in the charity's north division last year was Sunderland, where rescue crews launched 86 times.
This was followed by Skegness, with 69, Redcar, with 68, and Hartlepool, with 67.
Fleetwood was the busiest lifeboat station on the North West coast, with 49 rescue launches, followed by Morecambe, with 48, and Blackpool, with 42.
Around the UK and Ireland, RNLI lifeboats rescued 8,313 people while RNLI lifeguards assisted 18,775 people during the summer season on more than 150 of the UK's busiest beaches.
The charity is calling on the public to support its biggest annual day of fundraising, SOS Day, on Friday.
Mr Clift said: "The rescue figures just released show the remarkable commitment RNLI volunteer lifeboat crews have to saving lives."