Revamp of Newcastle theatre boosted by £300,000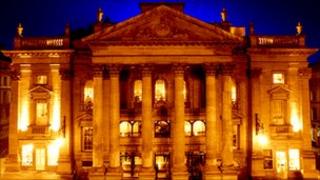 Restoration plans for one of Tyneside's most historic theatres which opened in 1837 have received a £300,000 boost.
The money will go towards the £4.75m revamp of Newcastle's Grade I listed Theatre Royal which will take place in time for its 175th birthday in 2012.
Plans include new seating, new lighting and ventilation, major renovations to fabrics, new carpets, paintwork and the reinstatement of gold-leaf work.
The money has been donated by the Heritage Lottery Fund.
The auditorium roof and the theatre's Portico pillars on Grey Street will also be refurbished.
Head of the Lottery Fund in the North East, Ivor Crowther, said: "The theatre is a historical gem in the heart of the city and has been putting on show-stopping performances throughout the decades.
"Our investment will contribute to a vital project which will conserve and transform the fabric of this fantastic building."
'Over the moon'
The majority of the designs have been based on the original Victorian interior.
Philip Bernays, chief executive of the theatre, said: "This grant is great news for us, and we are over the moon.
"In an age when competition for funding is at its most fierce, we are delighted that the Fund has recognised the critical importance of this project."
Performances at the theatre will be cancelled from 14 March to 11 September 2011, while the work is carried out.
The revamp is being funded by the public and private sectors.