Finial visit for Tyne-built HMS Chatham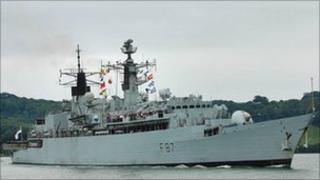 A Tyne-built Royal Navy frigate is making a final visit to the north-east of England before being decommissioned.
Construction of HMS Chatham began at the Swan Hunter yard in 1986. The Type 22 vessel was launched two years later.
She is paying her final visit to a UK port on Thursday and will stay berthed at North Shields for four days.
HMS Chatham has seen active service globally in conflict, anti-piracy, anti-narcotics and humanitarian operations, including the 2004 tsunami.
Her Cumbrian-born commanding officer, Cdr Simon Huntington, said: "This short visit to an area that I know very well will be tinged with sadness as this will be our final visit to the Tyne, the place where she was built by Swan Hunter.
"It is also the last major event in the ship's life before she is decommissioned."
Cdr Huntingdon, who studied in Newcastle, added: "These ships are the longest serving frigates in the Royal Navy and are extremely versatile platforms that have served the nation well.
"A decision has been taken to reduce the number of frigates and destroyers and it follows that we should decommission our older assets."
The ship will berth at the Northumbrian Quay, but will not be open to the public.
It will then return to its base port of Devonport in Plymouth for the final time at the end of January, before a decommissioning ceremony in February.