South Shields firm calls for more export support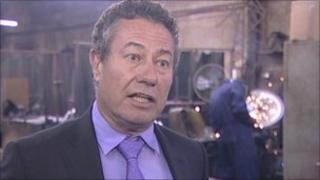 A South Shields firm that relies on exports says the government still needs to offer more support.
Casino equipment manufacturer Prestige Seating Technology cut staff after making losses four years ago.
Managers decided to go on an export drive and 70% of the firm's orders now come from abroad, mainly from Germany and Belgium.
It now plans to take on extra staff but managing director Stephen Treharne said support for exporters was inadequate.
"We were told when we put in for a grant that most of the money now goes to Eastern Europe, they're booming.
Exports survey
"The government needs to invest in exports. By investing £1,000 in a business trip to Europe you could save a factory."
The North East Chamber of Commerce said a recent survey had found 6% of companies in its area had boosted their exports in the past year.
But Ross Smith, from the chamber, said firms in the region needed more help.
"We need to have a tax and regulation system that works properly and targeted support for the companies that can drive economic growth."
The Department For Business, Innovation and Skills said more than 1,000 companies in the region were getting government help to build their exports every year.
Ministers are also planning a trade White Paper in the spring.