Demolition go ahead for Gateshead's 'rocket' flats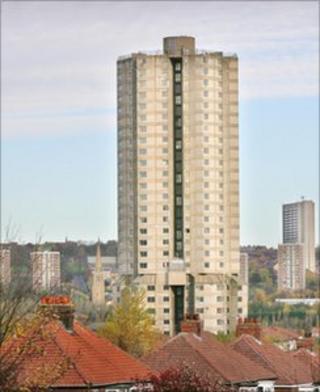 The demolition of a landmark 29-storey block of flats on Tyneside is to begin in the new year.
Derwent Tower, in Dunston, Gateshead, nicknamed the Dunston Rocket because of its shape, was built in 1973 and was plagued with problems, including damp.
Gateshead Council has already announced plans to redevelop the site with new homes, a supermarket, other shops and a GP's surgery.
A council spokeswoman said demolition work alone would take 18 months.
The 280ft-tall tower block of 196 flats is now empty.
Former residents of the 280ft-tall tower block of 196 flats had to put up with low water pressure in the taps and lifts frequently breaking down.
Council bosses have pledged to recruit local workers for the project, which is to be managed by Birmingham-based demolition contractor Coleman and Company.
The spokeswoman said: "Most local people will be glad just to see the Dunston Rocket go.
"But the fact that its demolition could also provide a real boost for the local economy is an unexpected bonus.
"Once Derwent Tower has been demolished, we will bring forward plans to redevelop the Ravensworth Road area.
"The development would be phased to ensure that a new supermarket is provided on site before the existing supermarket building is demolished."